Hentai History
Video credit to @ Crunchyroll on youtube.com
Sex, nudity, and the human experience – subjects that have been prevalent throughout art history the moment humans invented agriculture. Being able to settle in one place and no longer having to only depend on hunting and gathering as the sole source of food freed up time for people to ponder their existence in the world, to create for personal expression – and to have sex for pleasure. One of the earliest examples (if not the earliest) in art depicting two people gettin' it on is a small stone figurine standing at just 4", dubbed the Ain Sakhri Lovers, agreed to be around 11,000 years old by the experts. Though sparse in details, it is clearly two figures with their legs wrapped around each other. Why was it created? For magical ritual purposes? A fertility figure? Or maybe 11,000 years ago, some guy with a bit of free time on his hands decided to make a hot little reminder for himself to look at, not unlike the sexy plastic otaku figurines of today.
So we know that rendering the naked human body is nothing new, though maybe it was not always for erotic purposes. But erotica itself has been around a long time, and tends to pop up in society in the form of literature and art whenever a culture reaches that point where enough people have free time (and money usually) on their hands. Humans are social animals. We have sex. Then maybe we talk about it, spin tales of escapades gone wrong as funny stories, as a way to relate to one another, and to relate to ourselves. Tales become written stories, written stories become illustrated works, and suddenly you have a product for a ready-made market, because other people want to share in the laughs and the lust, too.
One such way this manifested was in 17th century Japan. It was a time of great economic growth, with an emerging merchant class (similar to our modern middle class) with time to drink, indulge in kabuki theatre shows, and party in brothels. Ukiyo was the term for this new pleasure-seeking, urban life-style, giving birth to the art of ukiyo-e, "pictures of the floating world", as now these same people also had enough money to buy art to adorn their homes with. And that brings us to the Edo Period – and the beginnings of erotic art in Japan, with shunga.
Edo Period (1600-1868): — During this period, the genre of shunga erotic art flourished, and was affordably produced in such a way as to reach the masses, in the form of ukiyo-e woodblock prints. It is one of the earliest examples of erotic art that reached a wide audience, from samurai warriors to everyday merchants. It ranged from the intimate, to the fantastical, and even the comical in the form of highly exaggerated oversized genitals. Of note is that shunga was produced not only by obscure artists, but also by established and well respected artists as well.
One of the earliest shunga artists was Hishikawa Moronobu, who produced some 150 shunga albums in his lifetime.
Intimate couple, by Hishikawa Moronobu, album print circa 1780s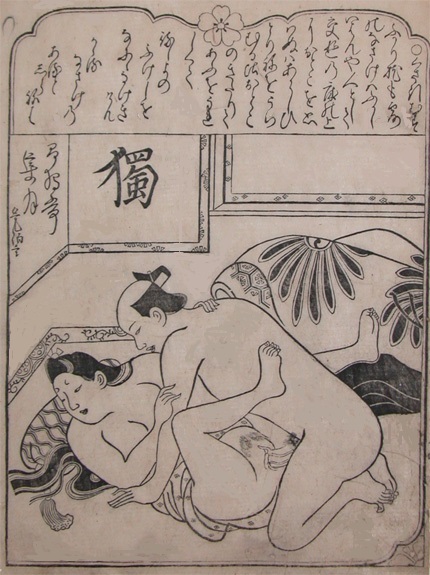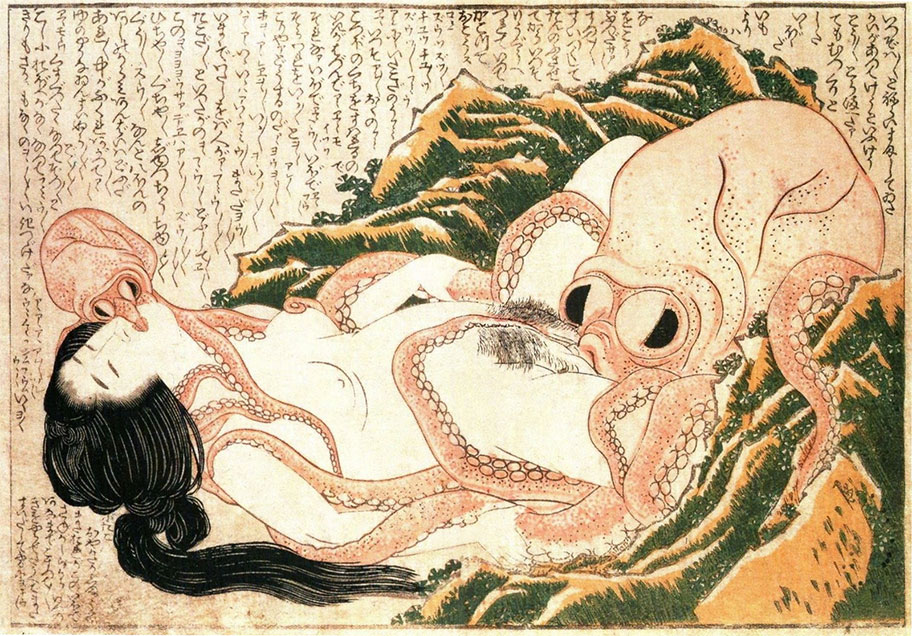 A famous example that gave rise to "tentacle erotica" is:
The Dream of the Fisherman's Wife by Katsushika Hokusai (yes, the same Hokusai that created that other famous woodblock print, The Wave)
Meiji Period (1868-1912) — The opening of Japan introduced puritanical Western influences, and in an effort to bring Japan into the international community as a "modern" sophisticated nation, policies were developed to ban elements of Edo period culture seen as crass and antiquated – including erotic art and literature. Thus the culture of sex and shunga, which in the past was treated as humorous entertainment, became more taboo during this period. Previously depicted subject matters like copulation scenes or even more innocent bathing scenes were less used in ukiyo-e woodblock prints, though not completely abandoned. This time period also brought on the advent of photography which would begin to fill some of the void, as the new art form gained popularity with the masses.
Photographs by Kusakabe Kimbei (1841-1934?) a renown Japanese photographer who, by the late 1800s, led one of the most successful art studios, with a large Western clientele. His catalogue of female portraits and photos were in the traditional bijinga ("beautiful person picture") style, harkening back to the popular genre of ukiyo-e.
Women at bath; Woman seated at vanity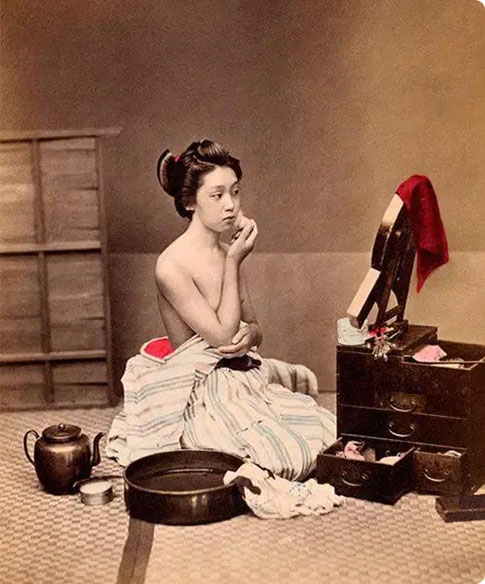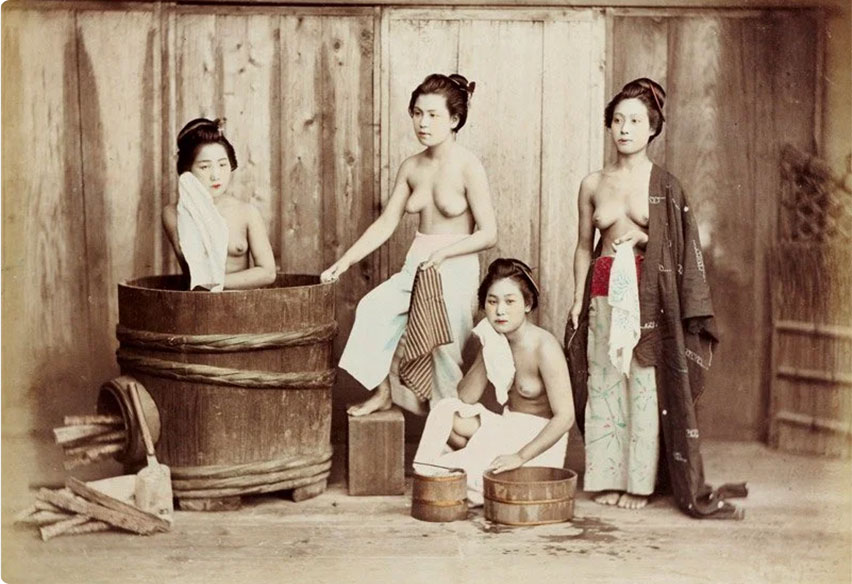 Taishō and early Shōwa Periods (1912-1945) Beginning in the late 1920s, Ero Guro Nansensu – "erotic, grotesque, nonsense", a literary and art movement celebrating hedonistic decadence and exploration of the "grotesque" overtook society in all forms of media. It was an avant-garde movement in the interwar years of Japan, spurred on by a restless social climate pushing back against censorship, conservatism, and government-imposed morality. In 1936, a specific sensational story of bizarre love, sex, and violence, known as the Sada Abe Incident, came to define the Ero Guro Nansensu movement. Sada Abe was a geisha and prostitute, who killed her lover and then carried around his severed genitalia in her kimono for some days. In later police interrogation, she said she killed him out of love, so that no one else could love him. Her story was everywhere in the news, and cemented the new fascination for the erotic extreme.
— Edogawa Ranpo (October 21, 1894 – July 28, 1965), writer and critic; hailed as a key figure in the development of Japanese mystery/crime fiction, and the godfather of Ero Guro. His popular 1929 short story, "The Caterpillar" (Imo Mushi), about a war veteran who has lost his arms and legs, and is also blind and deaf with his wife left to be his care giver and essentially sex slave until she snaps one day. It was banned by the Japanese government in 1939 just as WWII was starting, as it was seen as detracting from the national war effort. The story incorporated elements of hentai seiyoku (abnormal sexuality), and went on to inspire many current artists of the genre today.
— Shintaro Kago (b. 1969) Ero Guro manga artist and illustrator, often described as "fashionable paranoia", exploring a kind of existential horror within society, in satirical ways. His surreal "grotesque" imagery frequently deals with body modification mixed with eroticism. In 2014, he designed the cover artwork for American musician rapper Flying Lotus' album You're Dead!, bringing the medium into a mainstream American audience.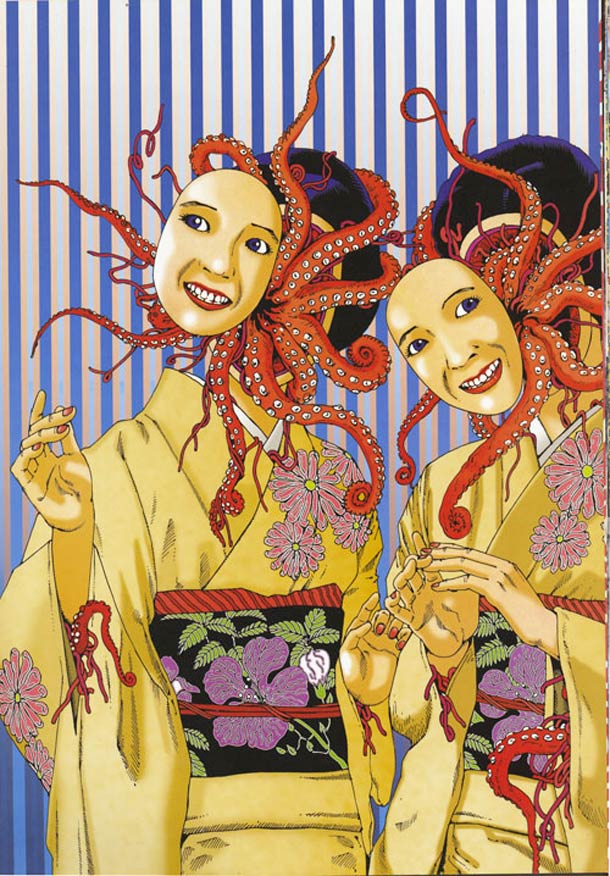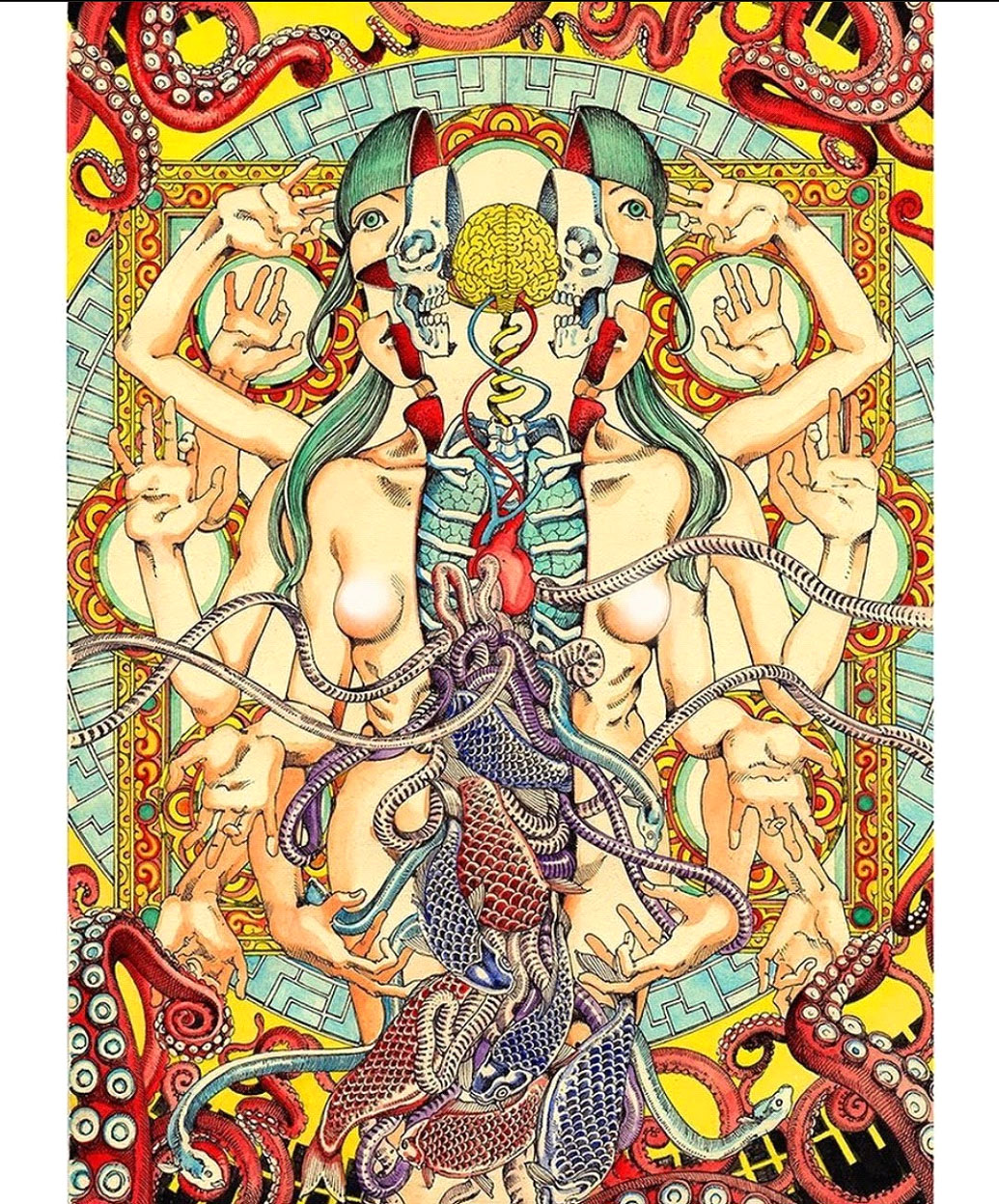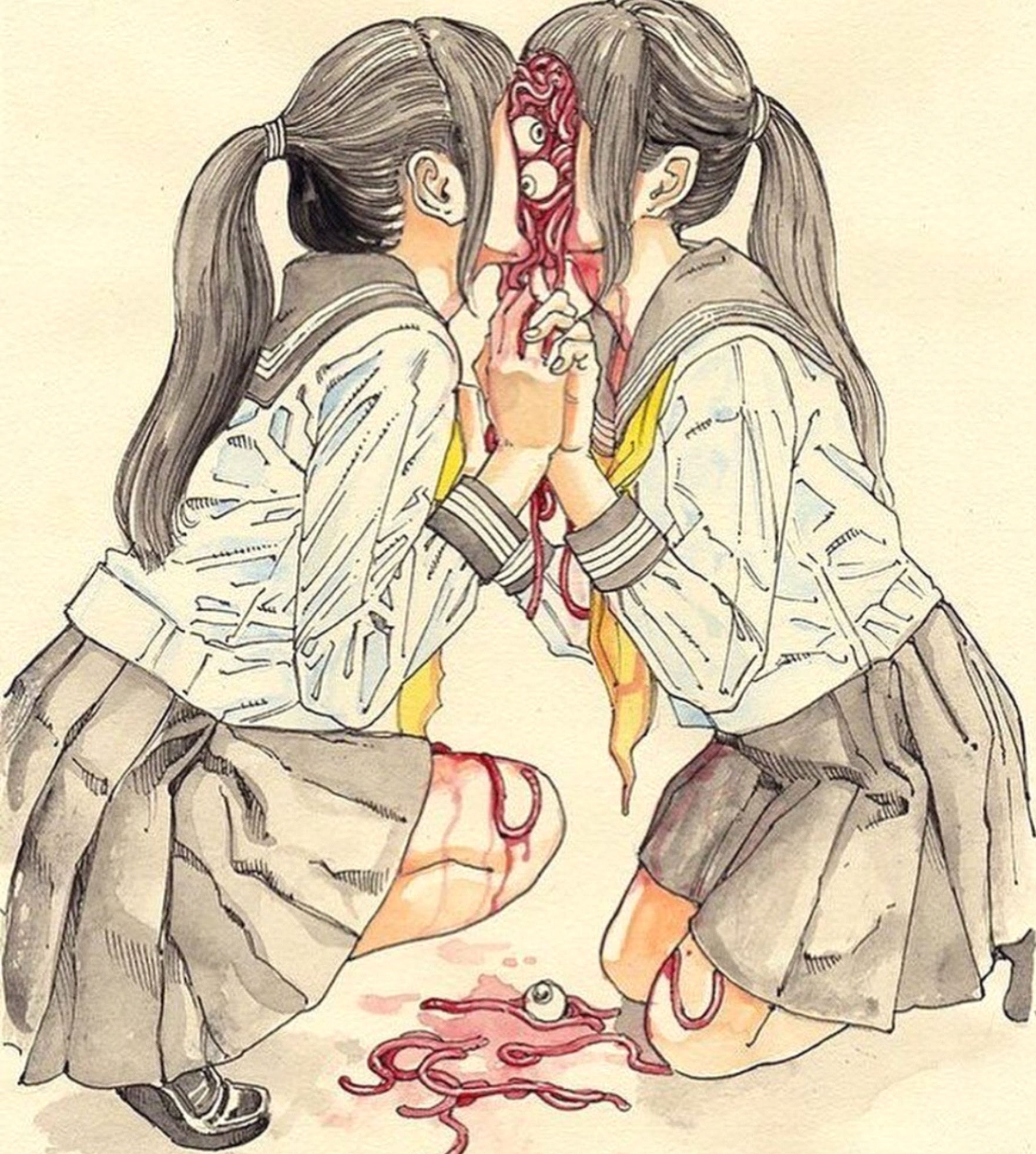 Artist instagram @shintarokago1969
— Suehiro Maruo (b. 1956) Ero guro manga artist, illustrator, painter. Much of his manga works are referred to as contemporary muzan-e, as they usually depict graphic sex and violence, as influenced by ukiyo-e artist Tsukioka Yoshitoshi's muzan-e works from the 1860s. Maruo also looks back to the Ranpo, with manga adaptations of that quintessential Ero guro story of "The Caterpillar", as well as another story, "The Strange Tale of Panorama Island"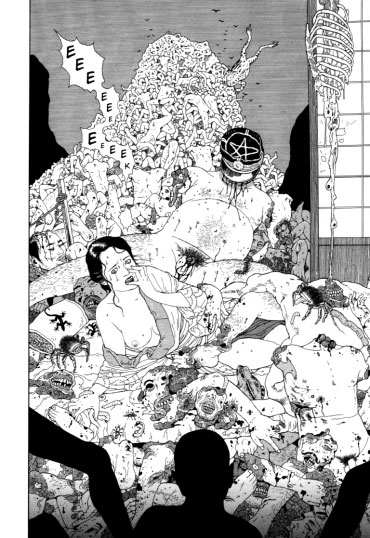 — Takato Yamamoto (b.1960) manga artist, illustrator, and painter; working in a style he coined "Heisei aestheticism", with elements from ukiyo-e painters combined with a subdued palette and a delicate dreamlike touch. Though the subject matter is still firmly ero guro, with dark eroticism and at times blood filled horror, the intricate works are treated with and show a delicate reverence.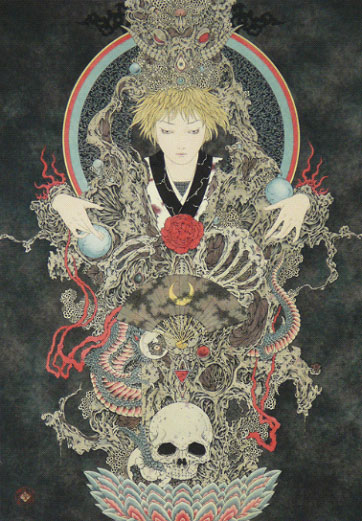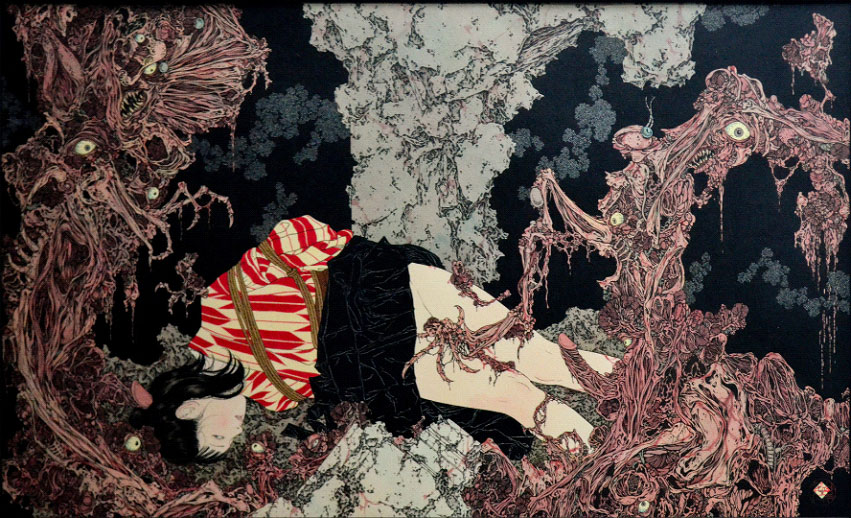 Post-1945 Shōwa period (1945–1989)
Osamu Tezuka (1928-1989), an artist and animator who has been known as the "Father of Manga", began his career in the mid 1940s, and went on to create the immensely successful Astro Boy manga, aimed at young audiences. He later branched out to adult audiences, and in 1969, produced the very first erotic animated feature film, A Thousand and One Nights. It was the first in Animerama, an adult film series by Tezuka's animation studio, Mushi Production. While A Thousand and One NIghts was a hit in Japan, it was only released in limited screenings in America, and was not well received at the time. The following year, another adult animated film was released from Mushi Production, Cleopatra; this time with Tezuka co-directing. Despite it not finding much success in Japan, Mushi Productions made a deal with a small distributor to get a subtitled version of the film to American audiences, re-titling it Cleopatra: The Queen of Sex, and boasting it as the first X-rated Japanese animated feature to make it to the US.
In 2014, years after Tezuka's death, his daughter discovered a whole collection of never-before-seen illustrations, including 29 erotic animal manga sketches. They were published in Shinchō magazine as "Erotica of Osamu Tezuka."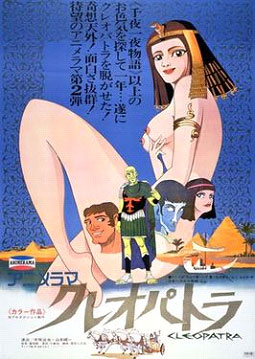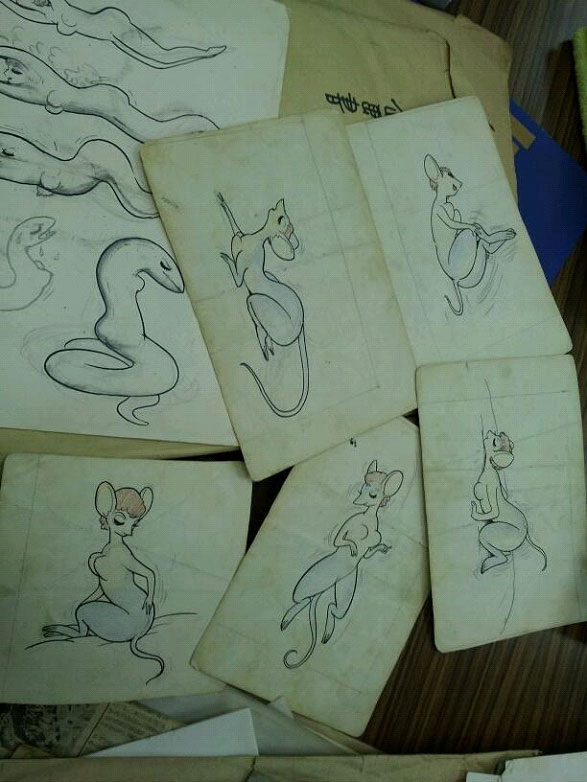 Go Nagai (b. 1945), a prolific, pioneering manga artist, credited with originating several genres, including the first ecchi (softcore) manga, Harenchi Gakuen (1968). The manga dealt with humorous but suggestive plots and scantily clad school girls, which at the time, pushed the boundaries of what was appropriate for print in the world of shonen manga (comics aimed at teen boys.) He is also credited with launching the "magical girl" genre via Cutie Honey (1973), and the creation of the signature "naked transformation" move of his female protagonist.
Entering the 1980s In 1979 came Azuma Hideo's Cybele, a doujinshi series considered by many to be a pivotal point for hentai, as it launched the lolicon genre. This led to the rise of magazines such as Lemon People (the longest running lolicon manga at the time, from 1982-1998) and the lolicon boom of the 1980s. This coincided with the VHS boom, as the VCR became a fixture in every Japanese home, playing a big role in the expansion of hentai. Since hentai was not material deemed appropriate for theatrical or TV release; video tapes sold in stores were the main medium for consumers to find it.
Along with VCRs and VHS tapes in the 80s, another new technology to bring hentai to an even wider audience was the personal computer – opening up a whole new medium for erotica, eroge (erotic video games.) Two of the earliest known titles are PSK's Lolita Yakyūken; and an early RPG with color graphics by Koei, Seduction of the Condominium Wife (団地妻の誘惑, Danchi Tsuma no Yūwaku.)
Going back to Lemon People, one of the serialized manga featured in the magazine became the 1984 Lolita Anime series by Fumio Nakajima, the first erotic adult hentai anime 6-episode OVA.
Later in the same year, the first of the Cream Lemon series was released. It was a collection of unrelated, exaggerated and surreal hentai stories made into a 16-episode OVA. Two of the recurring characters were an incestuous pair of half siblings.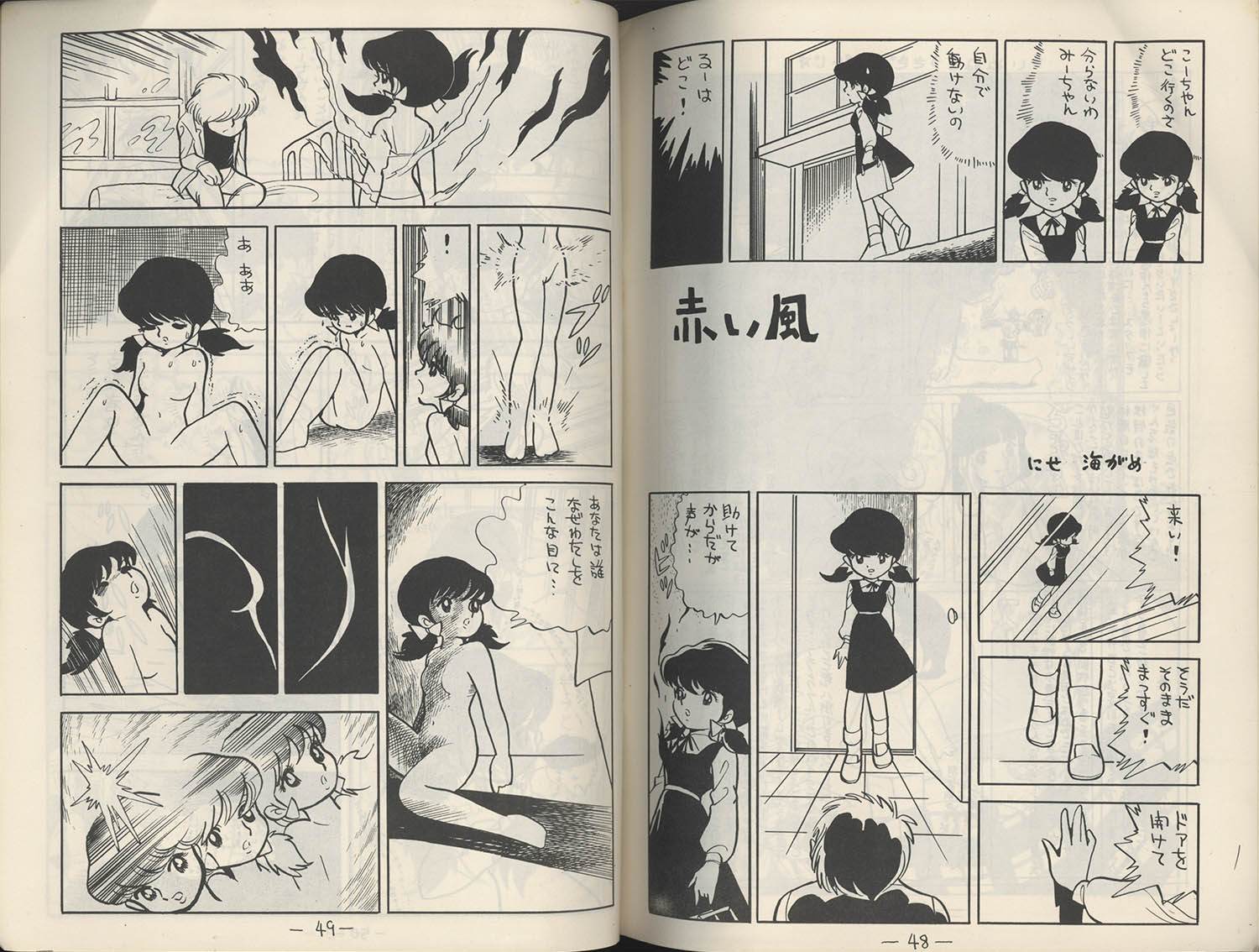 1986 brought us Urotsukidoji: Legend of the Overfiend, credited with the creation of the tentacle porn genre. It began as a 1980s erotic horror manga series written and illustrated by Toshio Maeda, later adapted into an anime series; and in 1989, the first three-episode-volume were edited together into the first "true hentai" anime film. One of the main reasons this is considered a formative film in hentai history is Maeda's use of monsters and tentacles to get around the censorship issues (the idea that, as these are not things that exist in the realm of reality and do not resemble human genitalia, it will not be deemed "obscene" within the law as written.) Others followed this example, leading to the explosion of the use of monsters/tentacle porn, mecha porn, etc. – anything outrageous and outside of realism. These new sub-genres were a huge boon to expanding the world of hentai.
Maeda followed up Urotsukidoji with the 1989 La Blue Girl, which also featured a lot of tentacle porn, but in a more light-hearted and tongue in cheek manner; following the exploits of a female ninja protagonist fighting a race of perverted sex-hungry demons.
1990s and on
The popularity of Japanese anime in the US skyrocketed, and brought along with it hentai. Several companies jumped on to import anime + hentai, some of the very first to do so being ADV Films, Central Park Media (now defunct), and Critical Mass.
Ninja Scroll, a 1993 animated film written and directed by Yoshiaki Kawajiri, generally regarded as one of the most influential anime films made, not only for its style but also instrumental for increasing the popularity of adult-oriented anime. It depicted animated sex, violence, and action sequences in such dazzling animation that it went on to influence works such as the Matrix.
In 1998 came the cult classic Kite by Yasuomi Umetsu, a story revolving around a young orphaned schoolgirl who becomes a child assassin under the control of corrupt detectives that are supposed to be her guardians. Originally released as a two-episode OVA, it was eventually edited into a single film on several DVD versions. Interestingly enough, a censored version with all sex scenes taken out still did fairly well in the US market, speaking to the strength of the narrative itself even without the purely sexual content. It showcased that, while hentai is of course sex-heavy, many of the works are done within actual good story-telling and artistry, which can help elevate the idea of hentai from being seen as only a 'low-art' form.
Bible Black is an unusual hentai title, as it was an eroge video game first, developed and published by AcriveSoft in 2000, with the original game artwork created by Sei Shoujo; and then later was adapted into several hentai anime; exemplifying how intertwined and important eroge has been in hentai development.
As the 2000s rolled on, new technology only made it easier and easier for an ever-growing audience to access hentai both new and old, along with being able to directly connect to actual sources such as the Doujinshi (self-published) collectives that are now an important part of modern hentai development (for both the artist and the consumer.) Faster computers, smartphones putting the media right in your hands, and mobile payment systems – these have all contributed greatly to the booming hentai industry of today.
Other current artists and works of note for the genre:
Masamune Shirow (b. 1961), a manga artist who studied oil painting, he created the iconic The Ghost in the Shell (1989-1990), a work that became a phenomenon in the world of sci-fi, exploring technology, humanity and sexuality in the not so far off future. Then in 2002 came Galgrease, an erotic manga and poster book series.
Nozomu Tamaki (b.1966) most renowned for Dance in the Vampire Bund series (2005-2012), a vampire fantasy narrative where the immortal female protagonist is often in a nude pre-pubescent form.
Ito "Oh Great!" Ogure (b.1972), manga artist known for Tenjho Tenge (1997-2010) a manga revolving around an unusual high school of combat; Air Gear (2002-2012) a manga of competitive aggressive form of futuristic skating; Silky Whip (2002) a pornographic series published by Eros Comix.
Rei Hiroe (b. 1972), manga artist best known for writing and illustrating Black Lagoon (2002-current), about a group of pirate mercenaries, continuing the genre with high-action fiery battles, killings, and occasional nudity
Kohta Hirano (b. 1973) – manga artist best known for Hellsing (1997-2008), a vampire manga that walks the line of sex and violence in a playful balance
Boichi (b. 1973), a Korean manga artist who created the hentai, Lovers in Winters (2005)
Shōji Satō – manga artist who runs an erotic genre group called Digital Accel Works; he is also know for the character design and illustration for Highschool of the Dead (2006-2013), an ecchi manga combining the worlds of high school students and a zombie apocalypse in an over-the-top romp of gore and violence mixed with suggestive themes and panty shots.
http://www.digitalaccelworks.com/
Akira Akatsuki (b. 1977) manga artist, most known as the illustrator for Nisio Isin's Medaka Box (2009-2013),
Hiromitsu Takeda – manga artist active in various Doujin circles, including Shinjugai, PearlOyster, and KingPin; concentrating on ecchi and hentai. Arcana Heart dj; Maken-ki! http://pearlshell.blog56.fc2.com/
Kiyohiko Azuma (b. 1968), manga artist best known for Azumanga Daioh, a four-panel format comic, and Yotsuba&! – both decidedly innocent comics for children. However, early in his career is made hentai manga under a pseudonym Joji Jonokuchi, and created Inma no Ranbu Boisterous Dance of the Lust Demon (1997), a collection of various tales
Takashi Murakami (b. 1962) contemporary fine artist working mainly in painting and sculpture, as well as commercial collaborations. He brought the so-called 'low' culture of Japan – anime and manga – into sharp focus within the international art scene. In the late 90s, he entered a "bodily fluids" period, where he depicted highly sexualized figures as oversized fiberglass sculptures, My Lonesome Cowboy (1998); Hiropon (1997); a take on the small plastic figurines collected by otaku, and a critique on otaku culture as a whole.